Vietnam – Japan Culture Day with Shobukan Kenjutsu dojo HCM
This text was is published on the website of the Hochiminh Union of Friendship Organizations. It informs the public that Tenshin Shoden Katori Shinto ryu kenjutsu dojo HCM (located at Lien Phong MMA training center) has officially been established as a branch of the Vietnam – Japan Friendship Organization.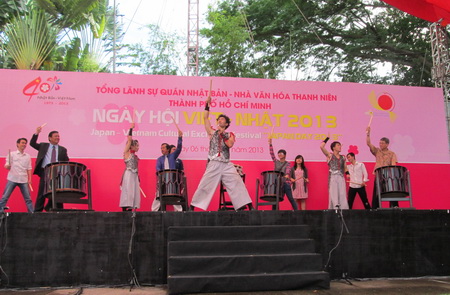 (HUFO) On the morning of September 15, 2013, at the Friendship House, the HCMC Union of Friendship Organizations, HCMC Vietnam – Japan Friendship Association and its affiliate Associations co-organized the "Vietnam – Japan Culture Day in HCMC".
Attending the festival was the leaders of the HCM City, representatives of HCMC departments and offices, representatives of neighboring provinces, Japanese businesses and people living and working in HCMC. The festival was the great occasion where Vietnamese and Japanese people could exchange the knowledge of each other's culture or simply explore the attractive Japan which is one of the cradles of humankind. Some remarkable activities caught a lot of attention of visitors might be Japanese and Vietnamese Cuisine, Haiku Poem, Yosakoy Dance, Japanese traditional dolls, Japanese and Vietnamese traditional tea-art, great performances of artist Do Loc, Truc Vang band, singer Hong Hanh, etc.
Mr. Nguyen Cong Tanh – Chairman of HCMC Vietnam – Japan Friendship Association shared that HUFO and VJFA cooperated with the Unions of Friendship Organizations in other provinces to hold a number of activities marking the 40th anniversary of diplomatic relations between Vietnam and Japan, such as the Vietnam – Japan Culture Day in Ba Ria – Vung Tau, the Vietnam – Japan seminars in Kien Giang, Dong Thap, An Giang and Long An. Japanese culture has recently become one of the most popular culture trends not only in Vietnam but in the world as well. These activities might partly satisfy the need of Japanese festivals of the youth in HCMC besides others like Cosplay festival at HCMC Youth Cultural House and so on.
In his speech, Mr. Hida Harumitsu – Consul General of Japan in HCMC said that after nearly 12 years working in Vietnam, this City has been his second hometown and he also found many features which both peoples share in common. On this occasion, three more Vietnam – Japan Friendship member Associations were established, which belonged to Yosakoi Dance Club, Huong Tra Viet Club and Lien Phong Dojo – Kenjutsu School Katori Shinto Ryu.
Moreover, Hiroshima – Vietnam Association from Hiroshima City – Japan offered 300,000 Yen to the Association of Agent Orange Victims in HCMC, Tan Kieu elementary school in Dong Thap Province and the Sponsoring Association of Poor Children in HCMC. Hiroshima – Vietnam Association annually visited HCMC and donated their hearts to the children suffering the Agent Orange or hard life.
There were about 1,000 visitors attending the festival proofing that the Japanese culture is as a giant magnet attracting so many people all over the country and HCMC in particular.
Source: please click here.